Changing User Language Setting
Sisense Administrators can change the language of the Sisense Web Application for all of their users.
However you the user can set another language for viewing Sisense locally.
Administrators can set the default language for a Sisense server from the Admin section. If you are an Administrator and want to set the language for your system, users groups, or users, see Changing the Sisense Display Language.
If you want to set another language for Sisense locally, select a language from User Profile Settings or from the Login page.
Sisense supports the following languages:
English
Chinese
Dutch
French
German
Italian
Japanese
Korean
Portuguese
Russian
Spanish (Argentina)
Spanish (Spain)
Turkish
In addition, any languages that your company has translated will appear in the list, according to the name defined in the translated system files.
Note:
The following content is not translated:
Built-in Javascript editor
ElastiCube Manager and Server Console
Sisense documentation and online help
REST API and documentation
Sisense automated emails
To change your system's language:
Either:
From the Sisense Login page, select the required language.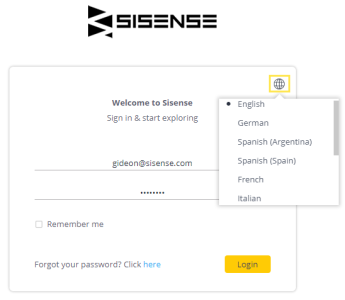 OR
Clicklocated in the upper right of the screen, and from the User menu selectMy Profile.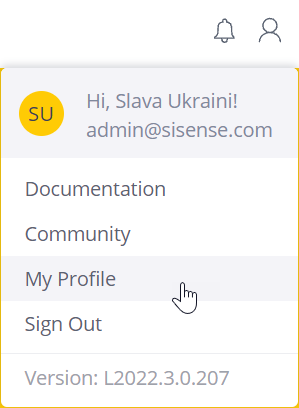 The My Profile page opens with the Personal Information Details tab selected.
The user icon changes to

.

ClickPreferences; the Preferences tab opens.

Select your preferred language from the drop-down menu, and click
.
After setting the user's language, Sisense will automatically be displayed in the selected language in future sessions.