Featuring Dashboards in Sisense Mobile App
With Sisense, you can configure a dashboard so it appears as a featured dashboard at the top of the Dashboard list that users see when they log in to Viewing Dashboards on Mobile Devices.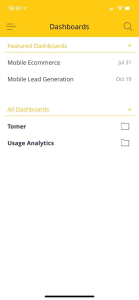 Only the Dashboard Owner can use this feature, and setting a dashboard as featured does not require the dashboard designer to republish the dashboard.
To feature a dashboard:
Open the dashboard and click on the dashboard's menu .
Select the Featured on Mobile App option.