Duplicating Dashboards
Copying a dashboard (even one that was shared with you) creates a new copy of the dashboard with a different name. This new dashboard is totally separate from the original and you are its owner, meaning that you have full editing rights. When you copy a dashboard, the new dashboard is added below the copied dashboard in your Navigation Pane with the same name plus a number in the order it was created.
For example, Sample Ecommerce(1) is a copy of Sample Ecommerce, while Sample Ecommerce(1)(1) is a copy of Sample Ecommerce(1):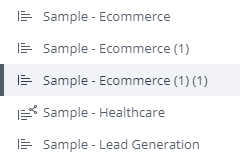 To copy a single dashboard:
Right-click the dashboard's name in the Navigation Pane and select Duplicate.
To copy multiple dashboards:
Click at the top of the Navigation pane.
Check the dashboards that you want to duplicate and then click the Duplicate button.

Note:

To duplicate all dashboards in a folder, just select the folder. The folder's dashboards will be duplicated to the root of the Navigation pane. The new dashboards appear in the Navigation pane highlighted in yellow, which fades out after a few seconds.

Click once again to hide the check boxes.